Substance Abuse & Recovery Groups
SUBSTANCE ABUSE GROUP COUNSELING FEEDBACK

Integrity Counseling & Coaching has 7 substance abuse & recovery groups available at 3 locations in Pinellas County. Some of our clients sought treatment because they recognized that they were developing a problem as a result of their alcohol or substance use. Others were referred after an arrest or intervention of some kind. Clients who feel "pressured," "required," "forced," or "coerced" into treatment frequently express in their initial appointment that they do not believe counseling will be helpful, that they do not recognize that their use has been problematic, or that they believe they will do fine without treatment. For many of these clients, their treatment feels like a "punishment" or a "negative consequence." Others believe that treatment will be helpful, but they are frustrated because they have to invest their limited time or financial resources in order to complete treatment successfully. Denial or minimization of a problem with substances is normal, and we respect that some of our clients have very ambivalent thoughts or feelings about treatment. Typically, clients begin to recognize the value of counseling as they engage in the treatment process. Most of our clients complete treatment successfully, and nearly all of them report that the treamtent was helpful for them.


SUBSTANCE ABUSE GROUP COUNSELING EXIT SURVEY

Our groups are designed to recognize each client as a whole, unique individual. We provide a safe, confidential, and nonjudgemnetal envrionment for clients to express themselves therapeutically. We teach clients skills that can be used in multiple areas of their life, not just skills that can be used in relation to their substance use. We assist clients with developing and using adaptive coping kills, gaining insight and understanding about human behavior, enhancing problem-solving skills, preventing relapse, improving or enhancing interpersonal skills and communication skills, building support systems, managing stress and anger, and making and maintain positive life changes.

When clients complete treatment, they are asked to complete an anonymous survey to give us feedback on their treatment experiences. From 2008 to 2009, we collected surveys from 89 clients who completed treatment. Clients were asked to evaluate different aspects of their treatment experience on a scale of 1 to 10. The results show that clients are overhwhelmingly satisfied with their treatment. We are confident that you, too, will find counseling helpful.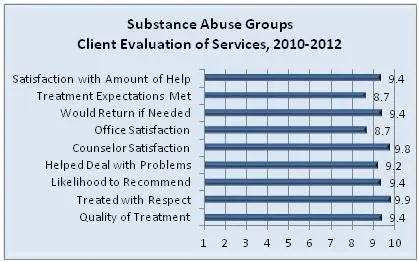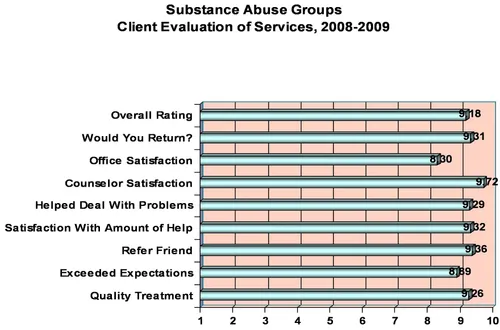 CLIENT TESTIONIALS: SUBSTANCE ABUSE AND RECOVERY GROUPS

"It's good to know that someone is there to listen."

"It was a good thing to see two points of view about the same problem."

"I gained a great deal of insight of myself and other problems people have due to our indulgence of chemicals or abuse. I hope other people gain as much as I did. It has helped me know better how to deal with people with dependencies. I will not be forgetting this ever in my life."

"You got me talking more."





"Thank you for your patience and professional services."





"I talk more. I'm not so shy around a bunch of people, and now I'm very happy and clean."





"The group discussions were helpful and the counselors were great."





"Just being in the group helped by seeing that I was not the only one going through this."





"I did not think I could stop drinking. I have and I think you very much."





"It was helpful just to be able to talk to someone about problems I was having."





"The classes were very helpful because I learned how to deal with problems."





"[I liked] having a counselor who is direct and tells you like it is and seems as though she really does care."





"It was very helpful for me to learn about things other than just alcohol, such as anger, attitude, emotions, behaviors, and how they affect you and what you do."





"I learned a great deal more than expected about alcoholics and the sickness."





"It was very helpful to be challenged by the counselor, which helped me open up more both in group meetings and to myself."





"The group was helpful in letting out my thoughts and emotions."





"I realize I have a problem that I have to take more seriously than I thought."





"Lots of facts were given. The conversational style of treatment was very effective."





"Every discussion was intense and helpful."





"I was able to take an honest look at myself and be in a comfortable group setting."





"The experience was just that—an experience…that I needed at this time even though I thought at first I didn't need it."



"I enjoyed our weekly activities; they helped me gain a lot of insight. I enjoyed the experience."





"I needed the 'time-out' period of not being allowed to drink to gain better perspective of my behavior."





"[Counseling] allowed me to see things from a different perspective, often listening to others share their experiences and allowing me to share mine."





"Group encounters helped me to see my attitudes in others, which brought them to light."



"Over the weeks, it was helpful with certain topics group had and I learned form them. Also, the 'negative consequences' assignment was an eye-opener."



"

You have very professional counselors."





"The personal treatment made me feel I was an equal. No one talked down to me. I cannot think of anything that I would change."





"A lot of aspects [were helpful, such as] opening up with thoughts and feelings and understanding the important things in life…It was an enlightening experience!"





"The information helped me understand the real problem and how to deal with it."





"I realized that there are people who can help me. [Group] taught me to open up to people. The beginning was hard, but I finally realize it has helped me. The services were excellent."





"People cared about what happens to me."





"[I have more] awareness of behavioral patterns and identifying emotional triggers."